County Map - Cemeteries, Schools & Churches
Disclaimer: A number of Errors for the Location of Cemeteries have been Found and the map is presently being updated. When This Disclaimer Disappears the maps should be more up to date.
NOTE: Click on the map for a version in .jpeg format for copying to your computer for printing and use in other applications.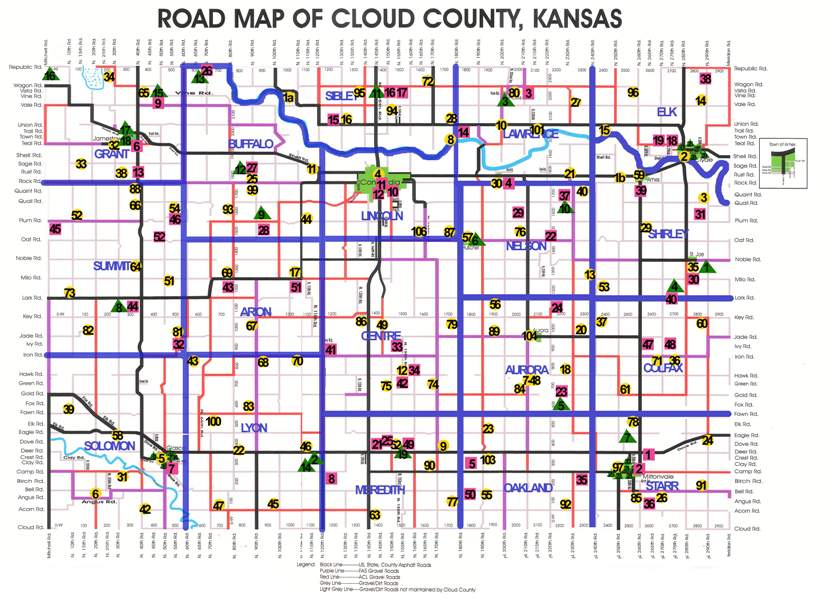 MAP INDEX
| | | | | | | | |
| --- | --- | --- | --- | --- | --- | --- | --- |
| | CEMETERIES [PINK SQUARES] | | | SCHOOLS [YELLOW CIRCLES] | | | CHURCHES [GREEN TRIANGLES] |
| 1. | STARR | | 1. | SUNNYSIDE | | 1. | ST. JOSEPH |
| 2. | MILTONVALE | | | a. SIBLEY TWP | | 2. | BETHEL |
| 3. | HOLLIS | | | b. SHIRLEY | | 3. | HOLLIS |
| 4. | RICE | | 2. | JTCC - WRCI (Old Clyde School) | | 4. | MULBERRY CREEK, FRENCH PRESBYTERIAN |
| 5. | OAKLAND (or MCALLISTER) | | 3. | BEAVER CREEK | | 5. | SULPHUR SPRINGS E.U.B. |
| 6. | JAMESTOWN & ST. MARY'S | | 4. | CONCORDIA | | 6. | HUSCHER EVANGELICAL |
| 7. | GLASCO & ST. MARY'S | | 5. | GLASCO | | 7. | HEBER WESLEYAN METHODIST |
| 8. | BETHEL | | 6. | COLUMBIA | | 8. | HIGHLAND M.E. |
| 9. | SARON BAPTIST | | 7. | WILLOW SLOUGH (Sulphur Springs) | | 9. | WEST BRANCH |
| 10. | ST. CONCORDIA CATHOLIC | | 8. | BRICK | | 10. | MORGAN CHAPEL |
| 11. | NAZARETH | | 9. | MEREDITH | | 11. | SARON LUTHERAN |
| 12. | PLEASANT HILL | | 10. | LOWLAND (Consolidated w/ Enterprise & New Hope) | | 12. | FAIRVIEW |
| 13. | ABANDONED | | 11. | NO NAME | | 13. | DANISH LUTHERAN |
| 14. | GOTLAND | | 12. | PLEASANT HILL | | 14. | NEW HOPE WESLEYAN |
| 15. | SIBLEY | | 13. | TWIN MOUNDS | | 15. | SARON BAPTIST |
| 16. | SARON LUTHERAN | | 14. | JTCR JOINES | | 16. | ST. LUKE'S LUTHERAN |
| 17. | MURDOCK PRIVATE | | 15. | CRAMNER | | 17. | UNITED METHODIST |
| 18. | CLYDE, MT. HOPE | | 16. | JTCR SIBLEY | | 18. | ST. MARY'S CATHOLIC |
| 19. | CLYDE, CALVARY | | 17. | WILCOX | | 19. | ST. PETER'S CATHOLIC |
| 20. | MACYVILLE | | 18. | AURORA CENTER | | 20. | FIRST PRESBYTERIAN * |
| 21. | MEREDITH | | 19. | BUFFALO ? | | 21. | CHRISTIAN * |
| 22. | HUSCHER | | 20. | PRINCEVILLE | | 22. | WESLEYAN * |
| 23. | SULPHUR SPRINGS | | 21. | PLEASANT VALLEY | | 23. | METHODIST * |
| 24. | PRINCEVILLE | | 22. | LYON CENTER | | 24. | BIBLE METHODIST * |
| 25. | ST. PETERS | | 23. | PLEASANT RIDGE | | 25. | ST. ANTHONY'S CATHOLIC * |
| 26. | DAISH LUTHERN | | 24. | SPRING MOUND | | 26. | ST. JOHN THE BAPTIST † |
| 27. | FAIRVIEW | | 25. | BUFFALO VALLEY | | 27. | BAPTIST † |
| 28. | WEST BRANCH | | 26. | HOPEWELL | | 28. | CHRISTIAN † |
| 29. | NELSON (or PLEASANT RIDGE | | 27. | JACKSON | | 29. | PRESBYTERIAN † |
| 30. | ST. JOSEPH | | 28. | GOTLAND | | 30. | UNITED METHODIST † |
| 31. | CEDAR GROVE | | 29. | PLEASANT VIEW ?? | | 31. | ST. MARY'S CATHOLIC ‡ |
| 32. | SUMMIT | | 30. | RICE | | 32. | ST. PAUL'S LUTHERAN ‡ |
| 33. | KENDEL | | 31. | FISHER CREEK | | 33. | FIRST PRESPYTERIAN ‡ |
| 34. | ENTERPRISE | | 32. | JTCRR JAMESTOWN | | 34. | UNITED METHODIST ‡ |
| 35. | PHELPS | | 33. | PLEASANT RIDGE | | | |
| 36. | THOMAS | | 34. | PRAIRIE GEM | | | |
| 37. | WALNUT GROVE (or CAMPBELL) | | 35. | JTCC ST. JOSEPH | | | |
| 38. | CHRISTIAN | | 36. | HAYES | | | *Not sure of location in Miltonvale |
| 39. | AMES (or PLEASANT VIEW) | | 37. | PLEASANT FIELD | | | †Not sure of location in Clyde |
| 40. | FRENCE PRESBYETERIAN | | 38. | UNION STAR | | | ‡Not sure of location in Glasco |
| 41. | HALL | | 39. | SAMS | | | |
| 42. | PLEASANT HILL | | 40. | MORGAN CHAPEL | | | |
| 43. | MORRISON - MACYVILLE | | 41. | VALLEY ? | | | |
| 44. | HIGHLAND | | 42. | PRAIRIE VIEW | | | |
| 45. | SUMMIT 3 (Abondoned) | | 43. | CRISS CREEK | | | |
| 46. | WESTERN SUMMIT - DOC. MOORE'S | | 44. | BROWN | | | |
| 47. | ABANDONED | | 45. | BERNARD | | | |
| 48. | REGNIER PRIVATE | | 46. | BETHEL | | | |
| 49. | ST. PETERS | | 47. | HARMONY | | | |
| 50. | THOMAS | | 48. | SULPHUR SPRINGS (Willow Slough) | | | |
| 51. | WILCOX (or HARTINGER) | | 49. | HOPEWELL | | | |
| 52. | SUMMIT 4 (Abandoned) | | 50. | WEST BRANCH ? | | | |
| | | | 51. | MACYVILLE | | | |
| | | | 52. | NORTH STRAR MERRYVALE | | | |
| | | | 53. | MERRYVALE | | | |
| | | | 54. | RANGELINE | | | |
| | | | 55. | SOUTH OAKLAND | | | |
| | | | 56. | FAIRVIEW | | | |
| | | | 57. | HUSCHER | | | |
| | | | 58. | FAIRVIEW | | | |
| | | | 59. | AMES | | | |
| | | | 60. | COMO | | | |
| | | | 61. | WOODRUFF | | | |
| | | | 62. | COTTONWOOD | | | |
| | | | 63. | MT. WASHINGTON | | | |
| | | | 64. | HIGHLAND (Rushton) | | | |
| | | | 65. | ROCKY HOLLOW | | | |
| | | | 66. | WELCOME | | | |
| | | | 67. | ROCK | | | |
| | | | 68. | PRAIRIE POINT | | | |
| | | | 69. | SILVER ARROW | | | |
| | | | 70. | EXCELSIOR | | | |
| | | | 71. | CARMEL | | | |
| | | | 72. | MINERVILLE | | | |
| | | | 73. | EUREKA | | | |
| | | | 74. | ENTERPRISE (See 10) | | | |
| | | | 75. | NEW HOPE | | | |
| | | | 76. | NELSON CENTER | | | |
| | | | 77. | ROCKY HILL | | | |
| | | | 78. | LIMESTONE | | | |
| | | | 79. | PHOENIX | | | |
| | | | 80. | HOLLIS | | | |
| | | | 81. | SUMMIT | | | |
| | | | 82. | COTTONWOOD GROVE | | | |
| | | | 83. | EUREKA | | | |
| | | | 84. | WHITEROCK | | | |
| | | | 85. | LATHROP | | | |
| | | | 86. | UNION VALLEY | | | |
| | | | 87. | OAK CREEK | | | |
| | | | 88. | MAYFLOWER | | | |
| | | | 89. | COLLINS (or Woodperkeer) | | | |
| | | | 90. | ROCKY RIDGE | | | |
| | | | 91. | MANNING | | | |
| | | | 92. | SLEEPY HOLLOW ? | | | |
| | | | 93. | SALT MARSH | | | |
| | | | 94. | VANDERBILT | | | |
| | | | 95. | FORTNEY | | | |
| | | | 96. | BOGGS | | | |
| | | | 97. | MILTONVALE | | | |
| | | | 98. | HALFWAY ? | | | |
| | | | 99. | PARALLEL | | | |
| | | | 100. | SUPERIOR | | | |
| | | | 101. | LAWERENEBURG | | | |
| | | | 102. | WHITE STAR ? | | | |
| | | | 103. | NORTH OAKLAND | | | |
| | | | 104. | AURORA | | | |
| | | | 105. | OAK GROVE (or Ash Grove) | | | |
| | | | 106. | ROCK HILL | | | |